Norman Gauthier
>Creative Reproductions >East End Design >ArtFX
---
> Creative Reproductions
1988 to 2000

Norman Gauthier Owner/Creative Director
1107 Queen Street East

Clients Included: Jumbo Video, Home Textiles...

Norman is a self taught graphic artist and designer. He worked out of the Queen Street location for many years moving 2 times. Providing graphic art services, logo design, sign making, T-shirts printing and other promo printed goods.

> East End Design
2000 to Present

Norman Gauthier Owner/Creative Director

At East End Design it's the thought that counts. You can be sure your corporate brochure, retail ad, business cards, signs or what ever your business communication needs are, gets the attention it should.

East End Design was established in 1988 as Creative Reproductions located at 1107 Queen St. E. In 1998 the name was changed from Creative Reproductions to East End Design .

East End Design understands there clients have a unique customer base. Our designs take into account your visual ideas, the image you want to create and the tastes of your targeted market.

We specialize in effective, affordable communication pieces - from black & white ads to full colour package design.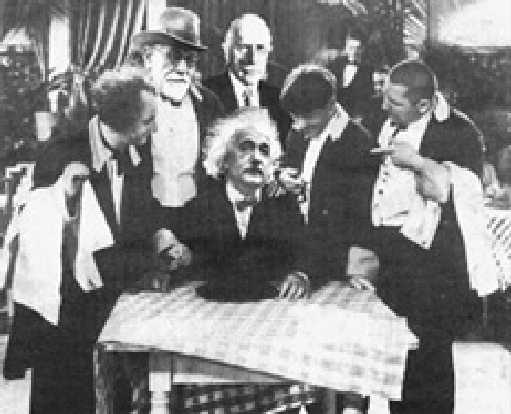 "It's The Thought That Counts"

Located on O'Conner Drive or 3 years between 2003 - 2006f East End Design is now located at 2342 Kingston Road, Scarborough ON. Providing graphic services, large format printing and now as part of artfx.ca … complete communications solutions including website development and video productions.

East End Design will provide printing services only or complete creative services as he did for REV Fitness, including logo design, outdoor signage, indoor banners and signage, newspaper ads and brochure design and printing.
End Design will now be opperating under the name of ArtFX
> ArtFX
Is Located at 2342 Kingston Road, Scarborough ON.
---
Roger Metivier
>Metivier Productions > Dandyline Pictures
---
>Metivier Productions
1984 to 1990
Roger Metivier President/Producer/Sales
Dundas & Sherbourne, Toronto
Clients included: GM Canada, Texaco Canada, Wardair Canada, Simpsons Canada, Sear Canada, Royal Bank of Canada, General Insurance, Simmons Mattresses, Insurance Bureau of Canada, Newspaper Marketing Bureau, Homemakers Magazine, many more….
Metivier Productions was my first production company which I opened after working 4 years at F&M Productions. My biggest client was Texaco Canada worth over $300,000 per year in slides, overheads, staging and video productions. Multi-image was a main stay of our work, using 3, 6, 9 or more slide projectors to created animated motions presentations. Video productions became the larger part of the work we did from script writing to storyboarding, shooting and editing and packaging the video for distribution.
Bata MI Show Hamilton Scourage MI GM Trucks MI
Wardair Story Video Wood Gundy Video
Dandyline Pictures
1990 to 2007
Roger Metivier President/Producer/Director
Bond Street, Eastern Avenue, and Woodbine Avenue to present time
Clients included: MedicAlert Canada, 2 years operated as the agency of recorded, producing video programs, PSA spots, radio spots, outdoor advertising and securing the medicalert name domain way before they had the site. Centennial Infant and Child Care, Safe Kids Canada, ICSC the International Council of Shopping Centers, OCBCC Ontario Coalition for Better Child Care 2 years providing all video, radio and TV spots and creating the Childcare Matters campaign, Streetlight Support Services, OMMRI blue box services, Safe Kids Canada and more…
During this time I produced and directed Dying for a Laugh a 20 minute drama, shot at Wallace Studios and …..
Audrey Smith: The Fight for Justice, used to open the TORONTO INTERNATIONAL HUMAN RIGHTS FILM & VIDEO FESTIVAL about the Jamaican woman Toronto cops subjected to a public strip search here.
I also executive produced 2 short films:
Coming to Terms, directed by Shawn Postoff view here in 2000 has won many awards
And Patti Burns a comedic drama directed Michael Souther view here
Music Videos include
Belafonte, by 3MDM shot on a sunny summer day in the beaches
Out of the Blue, by 3MDM shot during a live performance and with additional footage added
Colors, Numbers, Sizes, by 3MDM this was test footage only but I liked the song so much I finished the edit
TV Spots
MedicAlert, Best Friends, 30 sec English and French
OCBCC, Child Care Matters, 30 sec English
Canadian Travel School, Work & Play, 30 sec English
OAC 30 sec English
Canada Home Shows, 2 – 15sec English Spots
Awards
AMI Bronze Award for Best 6 projector Multi-Image Presentation
ICSC – KidSense Honorable Mention http://www.filmfestawards.com/
Centennial Infant & Child Care,
CCTA Honorable Mention
www.corporatetv.ca/
MedicAlert, Silver Award at the CCTA www.corporatetv.ca/
Jamie Grant
>Artist Tree >Graphicjam >WiredKingdom >Lionshare
---
1993 to 1995

Jamie Grant Owner/Creative Director /
David Tottie Owner/Sales/CEO
Queen & Neville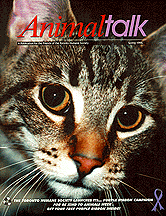 Clients included: Sony Music, Toronto Humane Society, Hamilton Tiger cats, Rainmaker Media -
2 years
ArtistTree was my first design company - started with Dave Tottie ( 50% partner) in the Beaches - again at Neville and Queen ( like first VDR ). Our clients at this time were Sony Music, The Toronto Humane Society ( Animal Talk Magazine) Exposure Magazine covers, Ray Wallani ( I met iDirect later through Ray).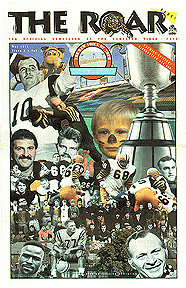 We also had a sign department in the basement with a plotter etc. For those who remember when the Tiger Cats were out of cash and about to fold ( aren't they always?) we came up with the "Keep The Drive Alive" campaign to raise money and boost ticket sales. Eventually - this lead to us working with the team to launch "The Roar" magazine.


The Roar lasted aprox 4 or 5 issues. We opened a second office in Hamilton and staffed up to about 10 people in total. All this was taking place right around the time when the Internet was just taking off. I later left the company - moved into my friend Norm's space and started working on what would become Graphicjam Digital Arts.

:: Sample Early Work: Hamilton Tigercat's "The Roar" Newspaper (above)
---
> Graphicjam Digital Arts [ Top of page ]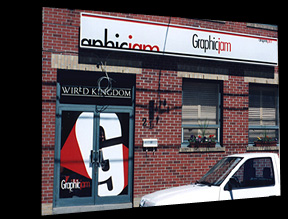 1995 to 2000

Jamie Grant
Owner/Creative Director
1110 Dundas St. E. - 21 Carlaw Ave

Clients Included: TUCOWS, Nelvana, BMG, Smirnoff, Internet Direct
5 years
Graphicjam started in Norm's shop - Creative Reproductions. It was here I first met Rick and Petros, who actually worked for Norm before they worked for me. ( It's a long story.. ; ) Also at this time, I met the guys from Internet Direct, John, Colin and Ross - who had a fast growing ISP with almost 10 thousand users. Graphicjam would go on to do all Idirect design and web work till their merger with Look and after. The company now has upwards of 250,000 users. After Norms we moved to a warehouse on Dundas and hired 2 employees. We then moved to 21 Carlaw.

Tory and I lived upstairs and we also hired Jackie. During this period, we did work for Nelvana ( First website) TUCOWS ( all brands, web design and print materials for 4 years ) Smirnoff, BMG Music Canada and more. I invited Ben from Edge Interactive to take an office and also offered an office to the guys at iRover. Graphicjam went on to merge with iRover - a company owned by Scott Waddell and Eddie Chu and has since also merged with Edge Interactive, a high profile Toronto marketing company.
---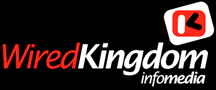 > WiredKingdom InfoMedia [ Top of page ]
2000 to 2002

Jamie Grant Owner/Creative Director
Scott Waddell Owner/Sales/CEO
21 Carlaw Ave

Clients included: Look, Gov of Canada, Hostopia, Domain Direct, BlueGenesis...

WiredKingdom provides technology integration solutions to ISP's and top tier Media websites worldwide. Distributed software architectures running on dynamically enabled platforms such as Brand Aware and Eclipse offer the best in both robustness and ease of use to our many clients.
WiredKingdom's resume boasted:
• Brand building for companies like Digital 4Sight, Tucows, Look Communications and Big Brothers.

• Custom web development for companies such as Nelvana, Toronto Life, Tucows.

• Content distribution for major broadcasters such as CBC, Chatelaine, Canoe.

• Successful advertising sales, and advertising sales training for Nortel.

• Development of secure technical infrastructure and on the fly custom brand software for WK products.

• Custom branded content contracting for dominant web properties such as Sprint Canada, Chum FM, and Look Communications.
---
> Lionshare Marketing [ Top of page ]
2002 to 2006

Jamie Grant Owner/Creative Director
3 Corely Ave.